1st Workshop
Agenda of the 1st Workshop on Measurement and Simulation of Coal and Biomass Conversion
April 19th 2015, during the 15th International Conference on Numerical Combustion
Chambre du Trésorier, Avignon Convention Center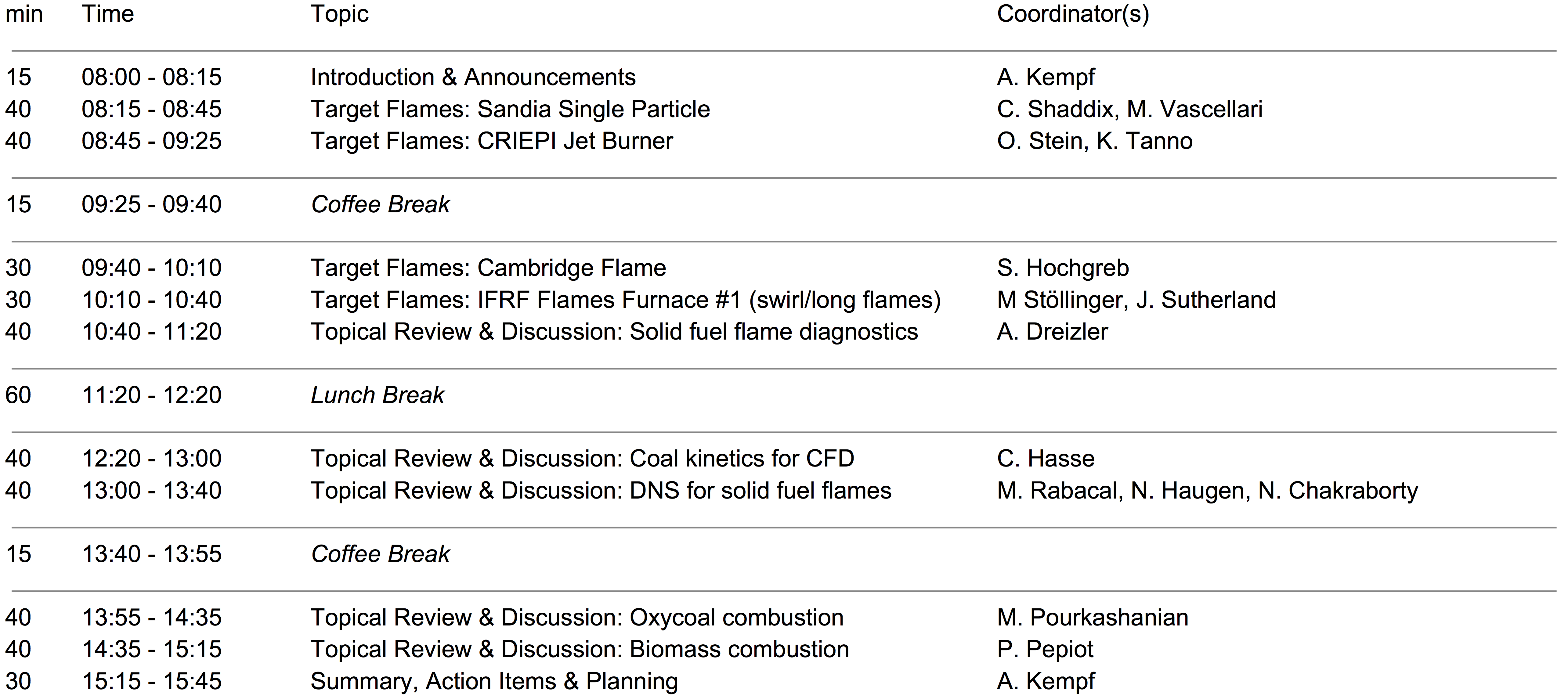 IMPORTANT NOTE: Please be aware that some of the work presented is already published while other may still be in progress. If you intend to refer to some of the published work, please cite it appropriately. If you wish to use or refer to some of the unpublished work you must first contact the original contributor of the work and ask for permission.
Organizational details:
The workshop will be held prior to the 15th International Conference on Numerical Combustion. It will take place on Sunday, 19th of April, 2015, from 8:00 a.m to 4:00 p.m. at the Avignon Convention Center in the 'Chambre du Trésorier' (conference premises).
Additional information:
Accommodation: Participants are encouraged to book a hotel room through a dedicated site of the ICNC, to be found "http://www.nc15.ecp.fr/lang/en/nc15/travel/accommodation". Alternatives close to the Convention Center are available, however an early booking should be considered due to the spring holidays in France and other European countries during this time.
ICNC15: For more information regarding the International Conference of Numerical Combustion, please refer to the conference website: "http://www.nc15.ecp.fr/".
Contributing: Contributions to the sessions are very welcome. If you intend to contribute data or slides, please contact one of the respective session coordinators directly.
Location:

Avignon, copyright Editions Gelbart, whc.unesco.org

Palais de Papes, www.avignon-congress.com

Chambre du Trésorier, www.avignon-congress.com